NER/ER Cylinder Control Electric Hoist
Single-Handed Operation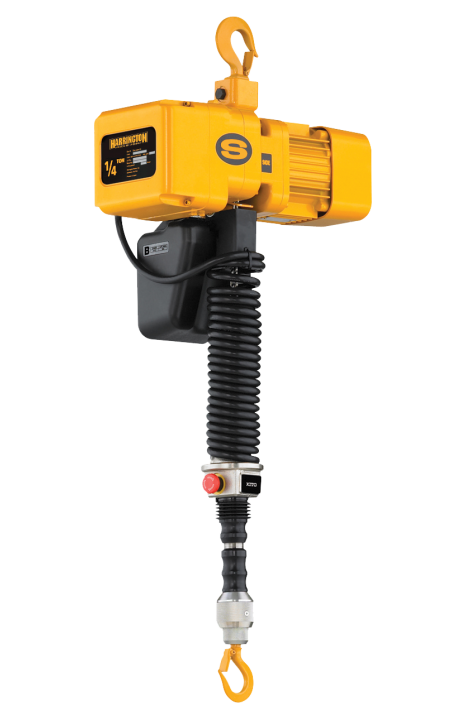 NER/ER Cylinder Control Electric Hoist
Single-Handed Operation
Available in single or dual speeds these user-friendly hoists have a 60 minute duty rating, H4 classification, thermal motor protection, extreme duty motor and "The Guardian" Smart Brake Technology. Providing ergonomic comfort to users, these are the perfect hoists for high repetitive assembly operations.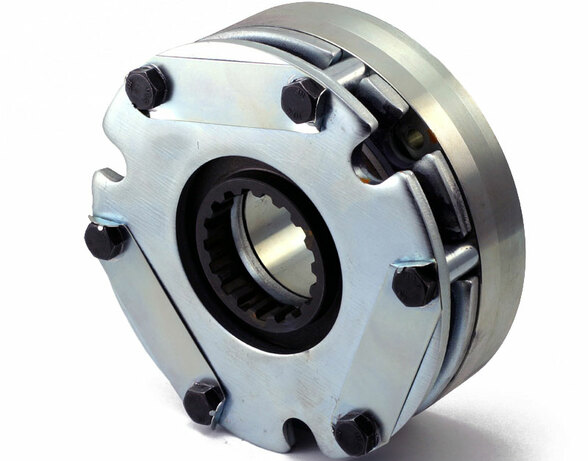 Smart Brake Technology
"The Guardian" Smart Brake Technology DC current motor brake with electrical failsafe design has a 10 year warranty.
EXTREME DUTY MOTOR
Equipped with thermal overload protection and cooling fins on all four sides of the motor housing, the NER/ER's totally enclosed fan-cooled motor (TEFC) efficiently dissipates heat, allowing for industry-leading duty ratings.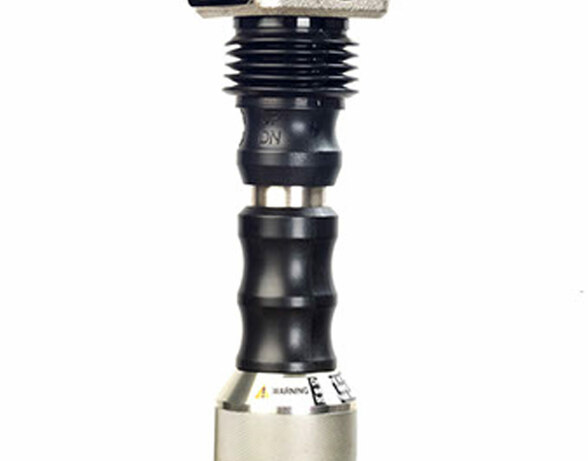 Ergonomic In-Line Hand Grip Control
The ergonomic, in-line hand grip control allows for single-handed operation, which gives the operator a free hand to safely guide and position the load.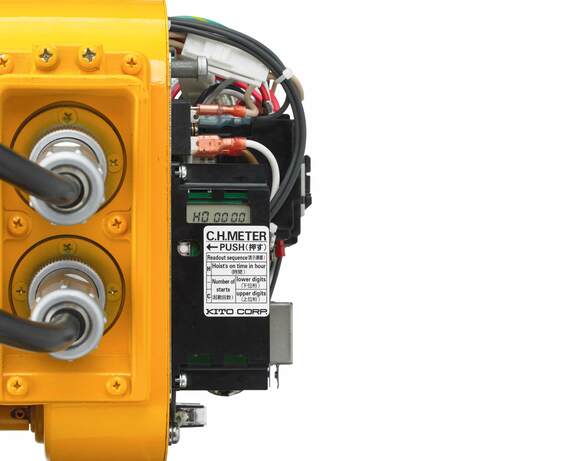 Count Hour Meter
The count hour meter records the hoist's starts and run time. This gives maintenance personnel an accurate record of the hoist's operating profile, letting them customize its maintenance schedule to optimize the hoist's life.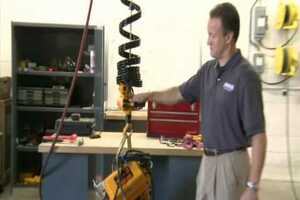 Mini Air Hoist by Harrington
Air Hoists by Harrington have a unique manipulator control for fine feathering of the load. These compact and lightweight air hoists are appropriately named the Mini-Cat. Learn about the features and benefits of this ergonomic air hoist including the hoists high speed lifting capability and unlimited duty cycle. This is the perfect hoist for repetitive work in assembly line and workstation applications.
CAPACITY
VOLTAGE
208-230/460-3-60
Dual speed models are not reconnectible
STANDARDS
ANSI/NFPA 70, "National Electrical Code"
ANSI/ASME B30.16, "Safety Standard—Overhead Hoists (Underhung)"
ANSI/ASME HST—1M, "Performance Standard for Electric Chain Hoists"
CLASSIFICATION
ASME H4
ISO M5
FEM 2m or 1Am
BODY
Rated IP55
Die-cast aluminum
Completely sealed body for for both indoor and outdoor applications, including harsh environments
Low headroom
Easy access external pins allow for quick change from hook to lug for trolley mount configurations on most models
GEARS
Heat treated helical and spur gears are precision machined for long life
Oil bath lubrication promotes a quiet, smooth, cool operation
LOAD CHAIN
Ultra-strong high-performance and corrosion resistant nickel-plated
Grade 80 DIN chain
Made with unique technology to greatly increase resistance to fatigue and wear
OPERATION
Cylinder control
Under-the-cover VFD standard for dual speed hoists. Speed ratio is 6:1 with adjustability up to 12:1
Plug in power supply cord save time on set up and maintenance
HOOKS
Forged carbon steel
Open gradually without fracturing under excessive loads
Bottom hook swivels 360 degrees
Top and bottom hooks have heavy-duty hook latch
GREEN INITIATIVE
Built smarter without the use of harmful materials.
Environmentally friendly
RoHS compliant
CYLINDER CONTROL
Standard control voltage is 110V
In-line handgrip permits one handed operation
Available on the hoist or as a kit for field installation
BRAKE
"The Guardian": Smart Brake Technology
Revolutionary DC current motor brake with electrical failsafe design
10 year warranty
MOTOR
Totally enclosed fan-cooled (TEFC)
Motor fin, fan blade and fan cover design cools the motor and brake
OPERATING CONDITIONS
Recommended for -4° to +104° F and humidity of 85% or less
CHAIN CONTAINER
OPTIONS
Longer power supply length
Other voltages