ED-DSA Dual Speed Adjustable Hoist 1-Phase
It's What's Inside That Counts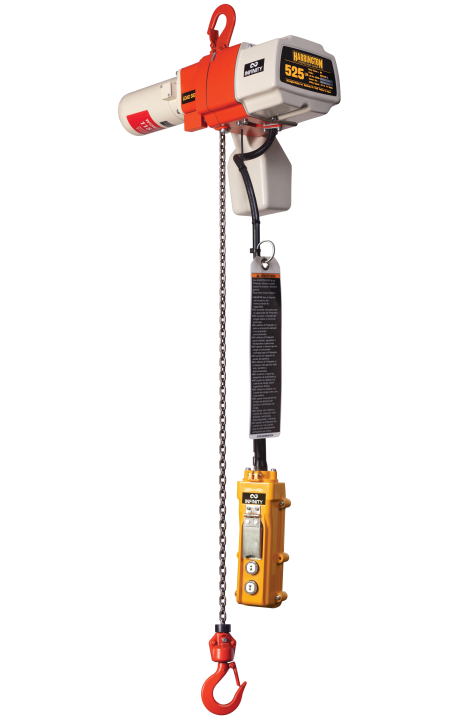 ED-DSA Dual Speed Adjustable Hoist 1-Phase
It's What's Inside That Counts
Harrington's ED-DSA single-phase electric chain hoist is engineered to handle small or awkward loads by providing precise load positioning and easy-to-use controls.
HIGH-SPEED MOTOR
The ED-DSA electric hoist is a quick-lifting, single-phase speed demon available in a variety of configurations. The compact DC motor reduces weight, generates less heat, and maintains duty cycles to keep production moving.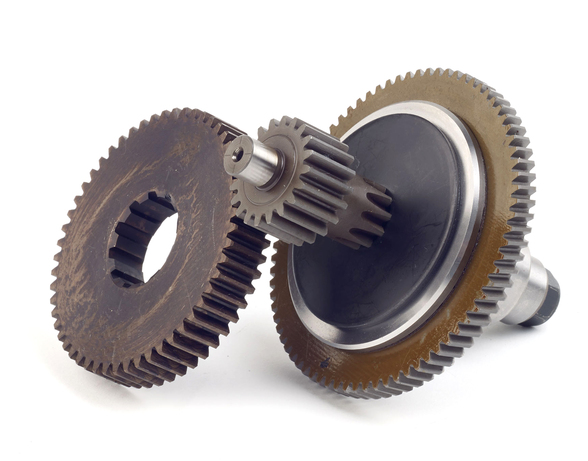 Durable Heat-Treated Gearing
Harrington's own heat-treating process increases the overall hardness and strength of internal parts for increased resistance to wear. Our three-step process of bright heat treatment, case hardening, and induction provides the ED-DSA with outstanding performance.
STANDARD DOUBLE-BRAKING SYSTEM
Get double the protection with a Weston-style mechanical load brake plus a regenerative brake.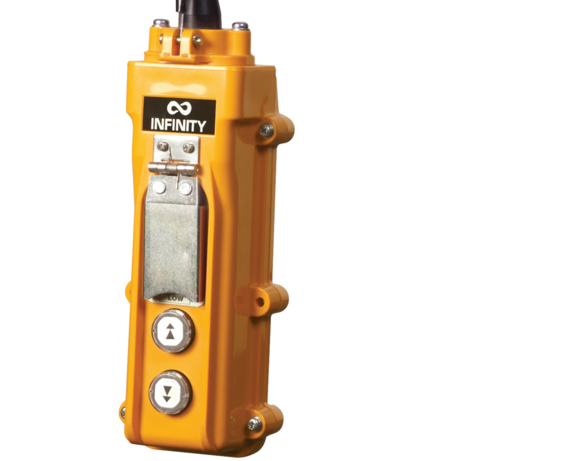 Speed Adjustment
Pendant has external speed adjustment knobs to customize the high and low speeds. Heavy-duty metal hinged cover protects knobs from damage and prevents speed settings from shifting during operation.
QUIET, SMOOTH OPERATION
With bearings immersed in an oil bath, you can hear how smooth the ED-DSA electric hoist operates. That reduced friction results in less noise and vibration, which extends the hoist's service life.
CAPACITY
VOLTAGE
CONTROLS
Pendant
120V direct control voltage
RATING
COMPLIANCE
ANSI/NFPA 70, "National Electrical Code"
ANSI/ASME B30.16, "Safety Standard—Overhead Hoists (Underhung)"
ANSI/ASME HST—1M, "Performance Standard for Electric Chain Hoists"
DUAL SPEED ADJUSTABLE FEATURES
Pendant has external speed adjustment knobs to customize the high and low speeds
BODY
Die cast aluminum
Low headroom
Plastic chain container standard
GEARS
Heat treated
Deep grooved ball and needle bearings Immersed in oil bath ensure quiet, smooth operation and long life
HOOKS
Forged carbon steel opens gradually without fracturing under excessive loads
Bottom hook swivels 360 degrees
Top and bottom hooks have heavy-duty hook latch
BRAKE
Double braking system includes Weston-style mechanical load brake and regenerative brake
MOTOR
Heavy-duty
Compact DC motor with rectifier for AC current
Reduces weight, generates less heat and maintains duty cycles
PROTECTION
High performance friction clutch is integrated with the load brake and designed to slip to prevent overwinding or overtravel
Upper limit switch prevents overwinding / overlifting
OPTIONS
Longer lift canvas chain containers
Longer lift or pendant lengths