HPC Convertible Cranes
Combine Economy with Performance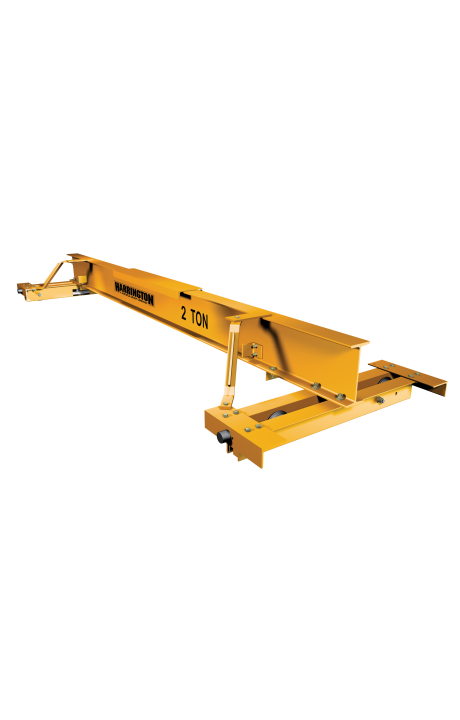 HPC Convertible Cranes
Combine Economy with Performance
Designed for medium duty crane applications, our HPC 500 convertible cranes provide flexibility for either top running or underhung use. Crane travel is easy and smooth with machined wheels with sealed ball bearings, while the electric or manual hoist with matching trolley provides positive, controlled lifting motion. All bolted assembly makes installation quick and easy—no welding required.
Large Diameter Wheels
Wheels are machined from cast iron and equipped with sealed deep groove ball bearings to allow the crane to roll easily. The wheels are suitable for flat or tapered flange beams.
Convertible Use
Able to be used in either top running or underhung configurations, HPC crane systems are a great solution for medium duty industrial applications.
CAPACITY / SPAN
1/2 - 2 Ton/Up to 24' Span
Convertible for either top running or underhung configurations
SERVICE CLASS
COMPLIANCE
Crane Manufacturers Association of America (CMAA)
American National Standards Institute (ANSI/ASME)
CRANE SYSTEM INCLUDES
HPC500 series end trucks
Pre-drilled bridge beam assembly with bracing for spans 10' and greater
Trolley hoist available in a wide selection of low headroom styles
Documentation, including assembly and installation instructions, crane operator's guide, and owner's manuals
Touch-up paint
One year warranty
All necessary hardware
STANDARD FEATUERES
Bolted assembly for quick and easy installation
Minimal welding required
Rail sweeps
Drop stops
Rubber bumpers