TCKM Air Trolley Hoist
Work Smart, Not Hard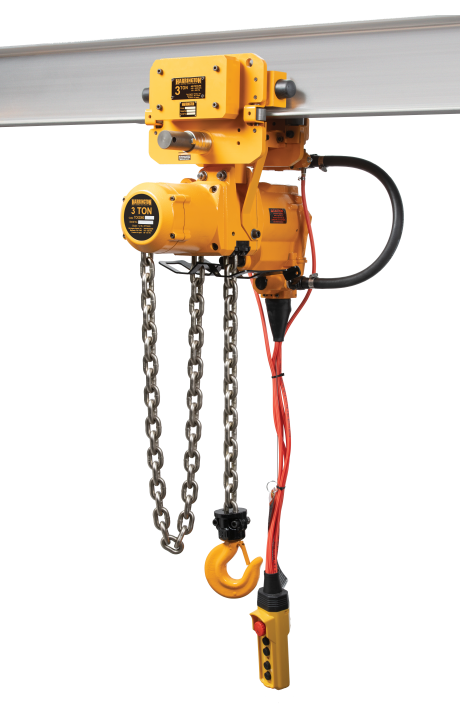 TCKM Air Trolley Hoist
Work Smart, Not Hard
Our MCR air powered trolley paired with our TCK air hoist make the perfect team for transporting medium to heavy loads in construction and foundry applications.
UNLIMITED DUTY CYCLE
TCKM trolley hoist is built for long and demanding work shifts. With its unlimited duty cycle, you can continually operate the hoist without worrying about damage from too many starts per hour.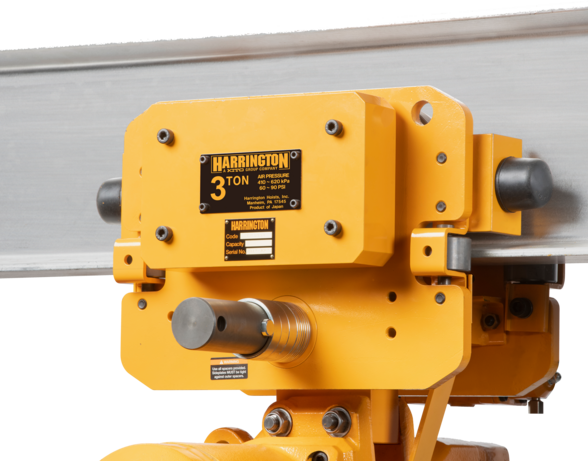 Robust Air Powered Trolley
This trolley is proven to be a true workhorse and has all the strength and power to get you from location to location without fail.
VERY FINE FEATHERING CONTROL
The spring-loaded, multi-vane motor design allows you to place and position a load exactly where you need it. Gradually control the lift with very fine feathering movements both up and down, even at low speeds.
CAPACITY
BODY
Cast iron housing for strength and durability
Powder coated finish proven weather resistant in harsh environments
LOAD CHAIN
Nickel-plated
Resistant to corrosion, abrasion and wear
OPERATION
Pendant control
Unlimited duty cycle for continuous operation
Trolley muffler produces low noise levels for operator comfort
OPERATING CONDITIONS
Temperature range +14° to 140°F
Humidity 85% or less
AIR REQUIREMENTS
Air Supply: 60 – 90 psi
Air Filtration: Maximum 5 micron air filter or finer required
Air Inlet Port: 3/4" NPT
Air Supply Hose Minimum Size: 3/4"
Air Lubrication: Minimum 10 to 15 drops of oil per minute (0.2 – 0.3 cc/min.)
MOTOR
Spring-loaded multi-vane motor design permits smooth operation
BRAKE
Internal disc brake protected from harsh environments
TROLLEY FEATURES
Drop stops
Rubber bumpers
Side guide rollers
Versatile Wheels
OPTIONS
Longer lift or pendant lengths