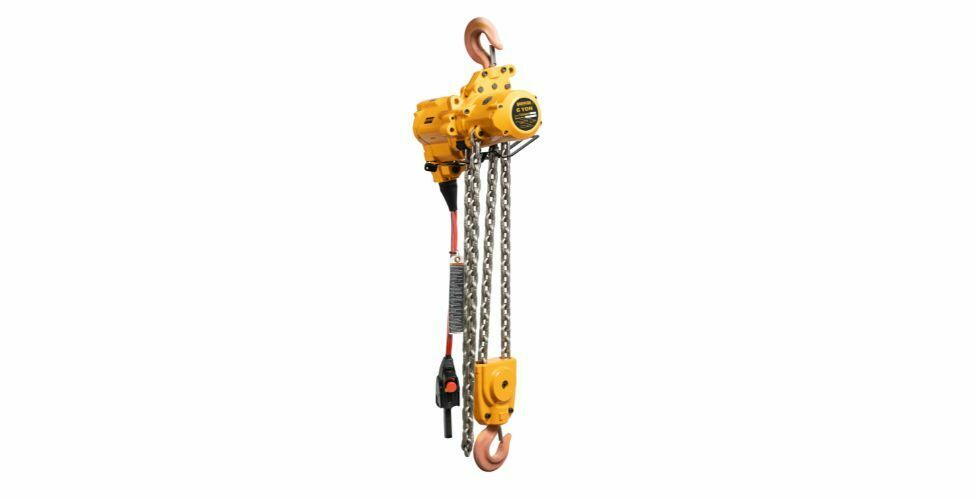 Harrington Introduces Their New TCE Series Spark Resistant Air Hoists
2023-11-09
Manheim, PA – Harrington has recently introduced their new TCE-llB Series spark-resistant air hoists. These hoists are built with components that will reduce or eliminate risk of spark produced by impact or friction in heavy-duty industrial applications. The TCE-llB Series hoists are Ex certified spark resistant to level II 2G Ex h IIB T4 Gb for gas and II 2D Ex h IIIB 130°C Db for dust and are in compliance with the ATEX Directive 2014/34/EU.
These air hoists are available in ¼, - 6 Ton capacities with either cord or pendant controls and can be paired with our VLPT push or VLGT geared Ex certified spark resistant manual trolleys. They have an unlimited duty cycle for continuous operation and extremely fast lifting for applications where speed is critical.
Standard features include, nickel-plated load chain and bronze-coated top and bottom hooks for spark resistance and a spring-loaded multi-vane motor that permits very fine feathering control.
Harrington is a brand of Kito Crosby, the global leader of the lifting and securement industry it pioneered, and for which it continues to set the quality standard. With global engineering, manufacturing, distribution, and operations, the company provides a broad range of products and solutions for the most demanding applications. Kito Crosby's people, products, solutions, and service have innovated the lifting and securement industry for more than 250 years. Together we lift and secure the world today, for a safer, stronger, and more productive tomorrow.
3-1-21 Our model TCW lube free, wash down air hoists are designed for use in humid, outdoor or limited corrosive environments or where equipment must be washed or hosed off regularly.These hoists also operate without air supply lubrication, leaving work areas free of oil mist from air exhaust. Harrington's TCW hoists feature an unpainted compact & lightweight cast ...